Advertise While You Drive
CoolTools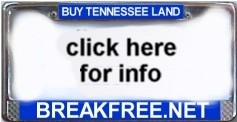 10's of thousands sold
We'll make you a customized License Plate Frame just like the one above for your car, truck, van or SUV. To say anything you want. Our metal customized License Plate Frames are very durable and professionally made with high quality materials.
They are also known as license plate covers, brackets or holders. Regardless of which name you may know them by, we'll make one just for you, to say anything you wish. A Customized License Plate Frame is a great way to advertise a website or business!
Available in chrome with white lettering only (exactly as pictured above).
This customized license plate frame fits all standard 6 inch by 12 inch US and Canadian license plates.

There are two mounting holes on the frame that line up with the holes on a plate.

The bottom of the frame has two little clips into which the plate goes. You simply remove the license plate, put it in the frame and screw it back onto the vehicle.
The price is $39.95 plus $5.00 s/h for each customized license plate frame. Please allow 1-2 weeks for delivery.
Credit cards and electronic checks accepted via paypal

As soon as you make your payment at paypal ($39.95 + $5.00 s/h each) you will be redirected to our online form where you will tell us what you want on the top and bottom of your customized license plate frame and where you want it shipped. If you are ordering more than one please place your orders one at a time. Paypal is the only payment method we accept. On your statement our account name will read CoolTools.

click paypal logo below to proceed